Understanding and Preventing Root Canals
Root canals are one of the most common dental procedures. In fact, according to the American Association of Endodontists (AAE), 25 million root canals are performed each year – that's about 41,000 root canals per day. Each year in the second week of May, dentists and endodontists recognize Root Canal Awareness Week, a time to spotlight the warning signs and treatment for this procedure as well as increase awareness on how to prevent it.
At Berdy Dental Group, our dentists have performed hundreds of root canals. While we know they can be nerve-wracking for our patients, learning more about treatment and prevention can help ease any hesitation towards this simple procedure should you need one down the line.
What is a Root Canal?
Due to decay, the pulp inside the tooth can become inflamed or infected. When this occurs, a root canal is performed to remove the infected pulp and fill the tooth. This keeps the tooth from rotting away and prevents further nerve damage – eliminating pain in the long run.
What are Important Warning Signs?
There are some major warning signs that may point towards the need for a root canal to be performed:
Severe pain in the infected tooth
While tooth pain can point to many other issues as well, a common cause of severe or isolated pain is an infected root. Typically, this pain will be more severe than a cavity, and will remain constant or will return frequently at high intensities.


Sensitivity
When drinking an ice-cold beverage, or eating hot soup, high sensitivity of the tooth may be a clear warning sign to visit the dentist. If the sensitivity is consistent, then an infected root could be the cause.


Discoloration
When a single tooth becomes discolored, it's normally not a good sign. While tooth discoloration can be a result of advanced staining or other ailments, if one tooth is significantly more yellow or gray than others, there's a very good chance that the root is infected.
How Does Treatment Entail?
Sadly, some reports show some 15 percent of people in the Unites States don't seek out dental care due mistaken beliefs or fear. You don't have to be one of them – with sweeping advancements in technology over the past several decades, root canals have become much easier to perform with little to no pain for patients. Here's a brief run-down on how a typical root canal is handled:
X-Rays
To get a comprehensive look at the infected tooth, an X-Ray is performed to provide an image of the tooth.


Local Anesthesia
Once the procedure is ready to begin, a local numbing agent is typically used to numb the tooth being treated.


Removing the Infection
Once the procedure begins, the dentist will remove the infected pulp (infected nerve) from the tooth. After cleaning and filling the space, the tooth is capped with a strong filling and crown to protect it.


Follow-up
After the root canal is performed, there might be some soreness or pain in the area for a few days. Interestingly, this is rarely pain from the actual tooth (as the nerve endings are no longer active), but rather inflammation of the gums around it. After the procedure, a follow-up visit with your dentist will ensure that everything is on track for successful recovery.
How Can Root Canals be Prevented?
Taking the proper steps to protect and care for your teeth can help reduce the chances of needing a root canal and improve your overall oral health at the same time:
Establish a consistent routine
While this is a preventative measure for all dental problems, it's particularly important for root canals. They typically result from extended neglect or poor oral care habits, so establishing a proper routine of brushing, flossing, and a better diet can help tremendously in preventing a root canal from being needed.


Paying attention to pain
Many people experience sensitivity or other pain in their teeth and think nothing of it. However, it's important to be aware of any pain you might be experiencing and to visit the dentist with any concerns, sooner rather than later. Even mild pain can be a sign of a tooth that is experiencing decay.
Care to Share Your Love for Berdy Dental Group?
Get Rewarded!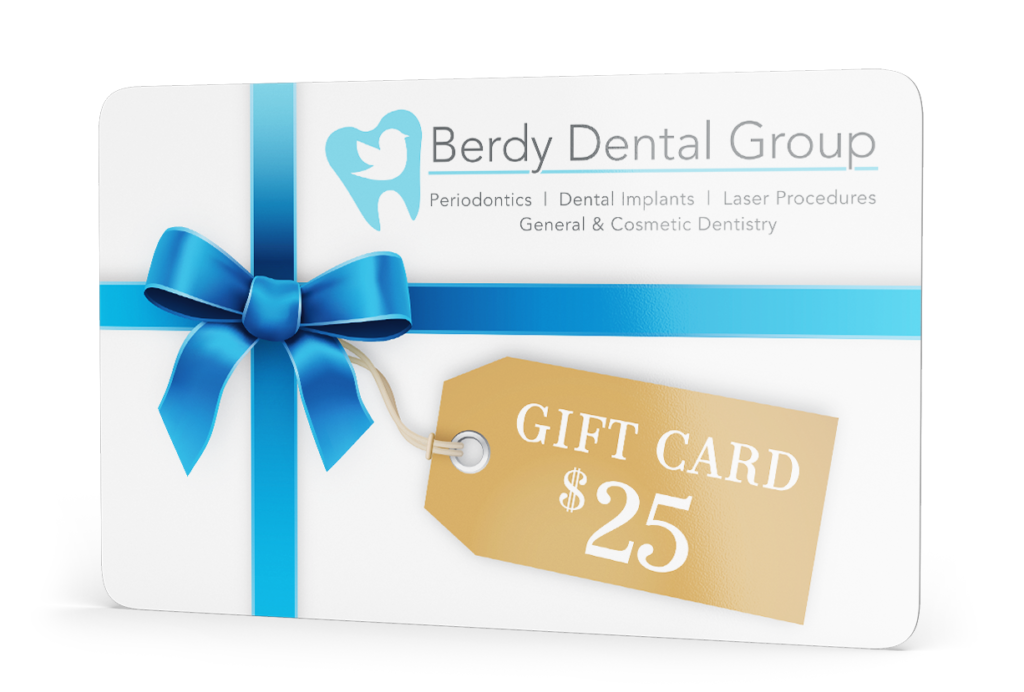 Current patients who refer someone that becomes a new patient at our practice will be sent a Berdy Dental Group gift card to be used toward a future service at our office. Our Care to Share program works like this:
Share your positive experience at Berdy Dental Group with family and friends who have never used us and tell them to use your name when they make an appointment.


Once a new individual you referred visits our office for his or her first dental appointment, we cross-check the name they gave us and automatically mail you a Berdy Dental Group gift card.



Next time you visit us, simply bring your gift card to receive your discount.
There is no limit to how many people you can refer and gift cards never expire. We truly appreciate your business and any new clients you send our way!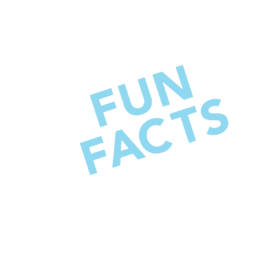 Did You Know?
Leaving a root canal untreated can result in a full extraction of the tooth! This is due to the risk of infection spreading to the jawbone and causing more extreme oral health issues.
31%
of adults don't brush their
teeth twice a day.
75%
of Americans keep their toothbrush for too long. The American Dental Association recommends replacing your toothbrush every three months.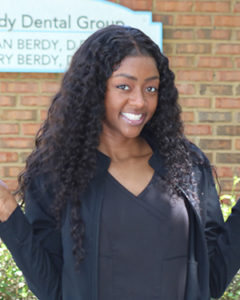 Adrian Caldwell is a dental assistant with 13 years of experience who we're thrilled to now have on the Berdy team. Get to know her in our employee spotlight!
Why did you become a dental assistant
I grew up in the dental industry, spending the summers with my uncle, who is a dentist. He helped me learn to pour models and take X-rays from a fairly early age. I also watched my mom, who has been a dental office manager for more than 30 years.
What makes you happiest in your work?
I value the relationships I'm able build with patients over the years. I love helping people smile again and influencing how they can prioritize their oral health.
What's your favorite part about working for Berdy Dental?
It feels like family here - very team oriented! We all share the same goals and perspective on oral hygiene and its importance.
Tell us about your life outside of work.
I love spending time with my family and friends. I also love to travel, eat good food and listen to all kinds of good music.
Do you have a quote you live by?
"One day at a time, live in the moment."
What is your favorite food?
If I had to eat one meal everyday it would be Hibachi because it's yummy and balanced.
What are your favorite activities?
My favorite indoor activity is sleeping. My favorite outdoor activity is laying by the beach.
Who is someone you'd like to meet if you could?
I'd like to meet the person that decided the weekend should only be two days!
What are your favorite activities?
My favorite indoor activity is sleeping. My favorite outdoor activity is laying by the beach.
Who is someone you'd like to meet if you could?
I'd like to meet the person that decided the weekend should only be two days!
Tell us something that might surprise someone about you.
Most people wouldn't guess that country music is one of my top three favorite genres of music